Massage therapy is in demand everywhere as it helps people to relieve their stress and pain. Tap into this potential market with an on-demand massage app like Uber and help your customers to connect with top massage therapists in the nearby area on any day of the week and at any time. Our team of experts have scrutinised this app with careful consideration so that it works flawlessly on all platforms. Build your business with us.
services include
---
NATIVE MOBILE APPS
---
Both our iOS and Android apps are built natively so that they perform with best user experience in respective platforms.
LIVE GEO­TRACKING
---
Your Customers can always see where the nearest providers are in real time in your customer facing mobile apps.
CHANGE/CANCEL BOOKING
---
Your customers have the comfort of changing or cancelling a booking at any time.
TALK TO YOUR PROVIDER
---
With our Customer and Provider apps, your clientele and providers can chat or call from within the app.
WORK HISTORY
---
Customers and providers can check the service history and see where their previous points of service requests.
REVIEW SYSTEM
---
Both providers and your customers can see the history of jobs with reviews so that they can get better.
Solutions We Offer
---
Turnkey Solution
---
All our products are 'Turnkey'. You can start with ZERO time-to-market and capture the largest market-share.
Powerful Admin Dashboard
---
Complete control of your websites and mobile apps is comfortably available in your admin dashboard.
Scalable Product
---
Have plans of taking off and scaling up rapidly? We got your back with the most scalable robust products in each category.
Whitelabel Solution
---
Our solution is entirely whitelabel to put whatever brand you want. Your customers will never know about uber for Massage.
Cost Effective
---
Uber for Massage is the most featureful product in its tier with pricing from the bottom of the barrel, prolonging your runway
Native Mobile Apps
---
Both our iOS and Android apps are built natively so that they perform with the best user experience in respective platforms
View Demo
Get both the Android and iOS apps for free. After all, building a business doesn't have to cost you a bomb!
Paid Plugin
---
Bitcoin Wallet Integration $1000
Integrate our bitcoin wallet and start trading with thousands and millions of bitcoin users globally. Highly secured and seamless.
Schedule Bookings $699
Your customers can book a service for a later time and date. Your providers will get notification of a later appointment and will be shown their
Live Navigation $499 Now Free!
With this feature your Provider can navigate to your customer within the app and not have to switch between apps
Geo fencing $750
This feature uses GPS tracking to create a virtual geographic boundary and triggers a response when the taxi enters or leaves the boundary.
Chat Integration $500
Once the ride has been accepted by the provider, chats and calls can be initiated by the provider to communicate with each other
God's eye view $500
This feature allows the admin to view factors like overall earning, list of users and providers with details, busy or

Multi Language $499
The entire Xuber apps, website and backend will be translated to a language of your choice.
MLM Viral Marketing $750
Use multi-level marketing by having your riders and providers use referrals to promote your business. It creates a win-win situation for all.
Bidding Option $1000 Now $750!
Allow riders and providers to take advantage of the best possible options by letting them bid for the best prices for the rides. This gives them a sense of satisfaction
Promotion Codes $999 Now Free!
This feature enables your customers to share a promo code to their friends and peers so that they both get better discount and brings virality to your app

Video Calls $2499
For a small cost we will be able to build in video calls inside of the app so that none of your providers

Wallet System $1500
This feature enables the passenger to top up money into his wallet account within the app. Mobile Money can be used to top up or admin can top up
Voice Calls (VOIP) $1499
For a small cost we will be able to build in voice calls inside of the app so that none of your providers
What We Offer
---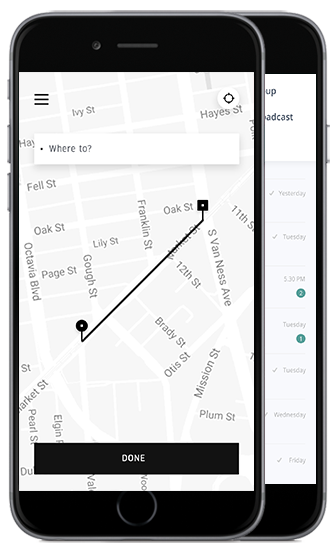 Mobile Apps

Easy to use, technically advanced, seamless mobile apps for any given vertical.

Web App

Apps built on avant-garde technologies. Highly functioning, pro-customizable, friction free in-app functionalities.

Admin Dashboard

All-in-one dashboard to quickly skim through the app activities and overall performance.

100% Customizable

Boundless customizing options with immediate add-on support for quick app transformation.

Payment Options

Secure payment options via any authorized online payment portals.
Toggling
Availability
We own expertise in rendering and stretching services for the development of Mobile Apps, Web Apps, Web-Hosting, UX & UI designs, Digital Marketing, Support, and associated services as claimed by our clients.
Your courier delivery person can turn on and off their availability with a flick of a Toggle Button in their app home screen called "Go Offline"

With this option, anyone who is looking to work on a part time basis can sign-up to be one of your courier for the control that only your app gives them on their schedule